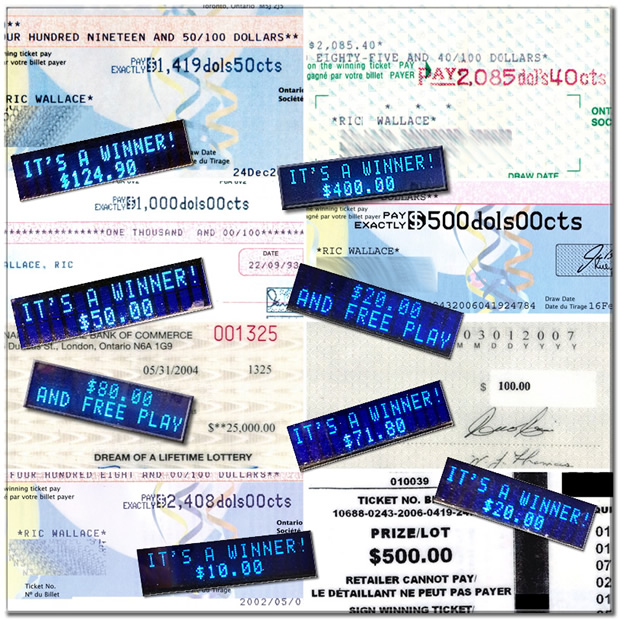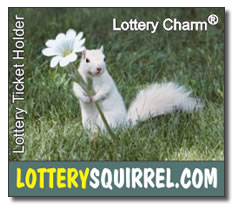 The Lottery Charms Story & LotterySquirrel.com
In April 2002, I was cleaning up my desk in my office, and I had a few lottery tickets attached to a filing cabinet using a couple of White Squirrel magnets. This was so they would not get lost or go through my new shredder. Following the draw, I checked my ticket and found it paid out $147.60 for 5 out of 7 numbers.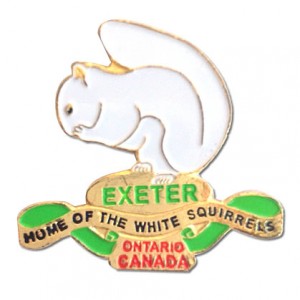 In May, the White Squirrel pins I designed came in, and I started wearing one of them. Once again, I just attached my lottery ticket to a filing cabinet with a White Squirrel magnet.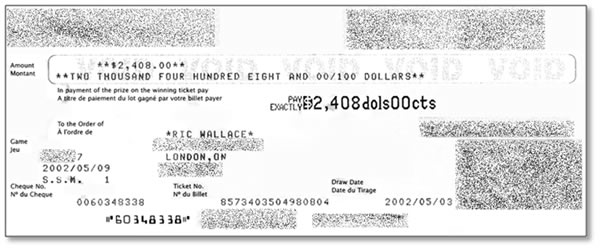 On May 4, 2002, I checked my ticket online to find out I had 6 out of 7 numbers on Canada's 7-number 47-ball lottery draw of the previous evening, paying $2,408. On the very same day, I was in Sarnia, Ontario taking some digital photographs for a customer and stopped by the casino on the waterfront. I was wearing the White Squirrel pin as I played the 5-cent slots. My winnings that day yielded $160. At this time, I left due to the excessive smoke causing me breathing problems. (In Ontario today, this is no longer an issue, since casinos are smoke-free).
Some friends were making jokes about a horseshoe located somewhere in my body. After reviewing what was different, we narrowed this to the White Squirrel Pins & Magnets.

On May 8, 2002, I was searching the internet for domains to use for marketing items of luck and registered LotteryCharms.com, LotteryPower.com, and LotterySquirrel.com. These domains were set aside for future use.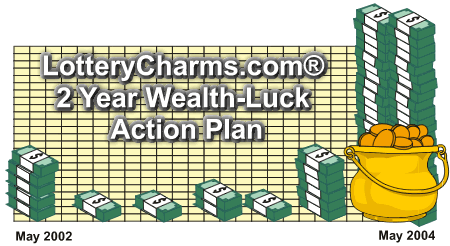 Start of the 2-Year Wealth-Luck Action Plan
May 30, 2002: LotteryCharms.com was formalized as a trademark with the Canadian Intellectual Property Office. The time frame of two years for the wealth-luck action plan was to allow for LotteryCharms.com to become a registered trademark. I deemed the trademark to be necessary in order to prevent someone else from capitalizing on this idea when the BIG WIN materialized.
This decision was the catalyst for a 2-Year Wealth-Luck Action Plan formulated on the belief that a series of small wins would eventually lead up to a big win, like tremors in advance of an earthquake. This would create demand for LotteryCharms.com items of luck, because when you win big everyone wants a piece of you.
June 1, 2002: The website LotteryCharms.com was completed to correspond with the official release of WhiteSquirrels.ca.
I achieved many wins, with two notable wins.
On Christmas morning December 25, 2003, I checked my numbers to find I'd won $1,419.50 for having 5 out of 6 numbers on Canada's 6-number 49-ball lottery (just one number off from winning $666,666.40).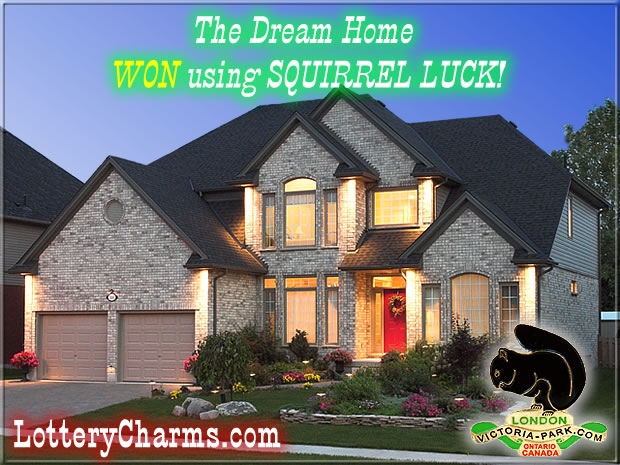 On May 31, 2004, the two-year goal of a planned big lottery win was achieved with the win of the GRAND PRIZE – of the London Ontario Dream of a Lifetime Lottery – prize valued at over $775,000. My wife and I wore Black Squirrel® pins daily, and I used a Black Squirrel® pin to attach the GRAND PRIZE Winning Ticket to a corkboard. Also, I carried a White Squirrel pin with the pin back removed in my wallet.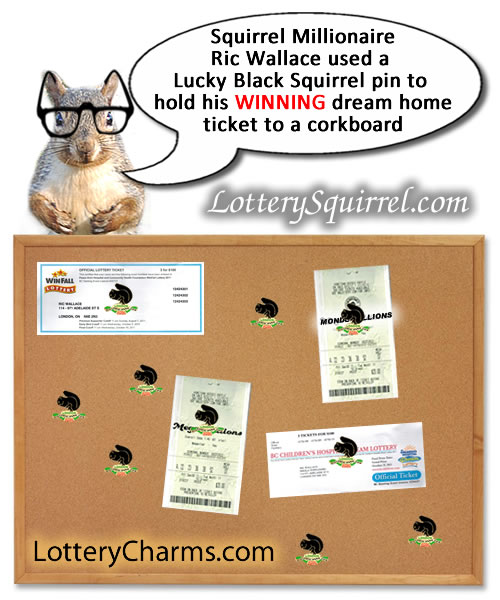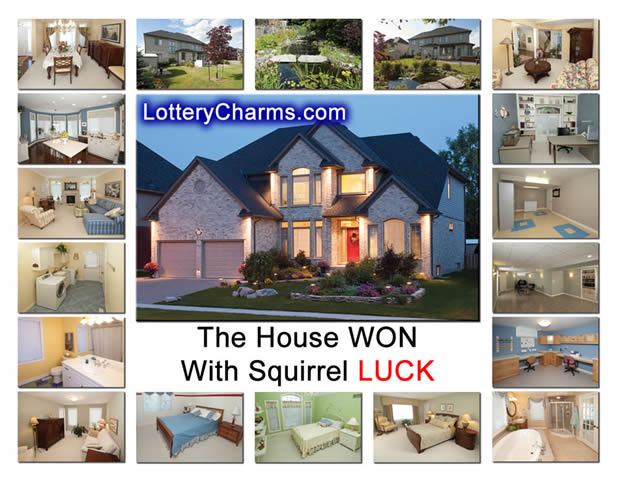 Our grand prize package included:
$510,000 custom-built 3,282 sq. ft., two-storey home
$110,000 of furniture and unbelievable accessories
$17,164 in kitchen appliances
$25,000 cash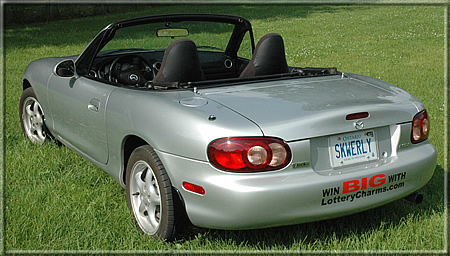 A 2004 Mazda MX-5 Miataconvertible
housekeeping servicesfor a year
$1,000 moving voucher
free gas water heater rental for a year
high-tech LG laundry appliances
toys, crafts and games
iCook Cookware; a spring water purifier and household supplies
indoor plants
built-in gas BBQ and fireplace, outdoor gas lamps & patio heater
a fully furnished home office
a do-it-yourself workshop outfitted with a DeWalt tool package
a fully furnished sewing and craft room
window treatments, luxurious bedding, china, and more!
June 04, 2004: LotteryCharms.com was allowed to be registered as a trademark in Canada. (6 days beyond the 2-year business plan – 5 days excluding the leap year and 4 days after the big win on May 31, 2004.)
June 18, 2004: LotteryCharms.com was registered as a trademark in Canada and was assigned the trademark number TMA613166.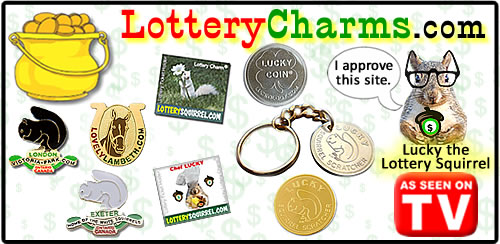 LotterySquirrel.com
LotterySquirrel.com was first registered on May 8, 2002 as a possible domain to be used to promote Squirrel Luck through winning big on the lottery, after experiencing two smaller lottery wins and a casino win. For years LotterySquirrel.com was redirected to LotteryCharms.com. In November 2008, I decided to give blogging a try, and I knew that LotterySquirrel.com was the perfect domain to combine my love of squirrels and winning the lottery.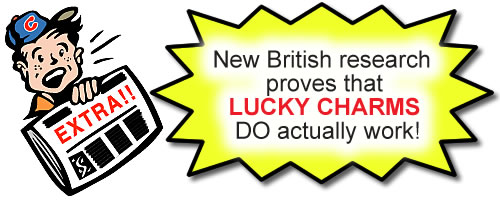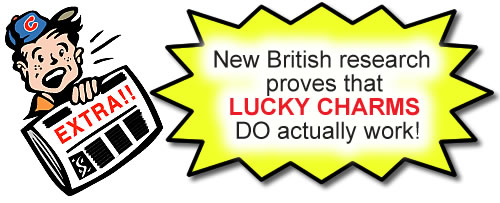 Having designed hundreds of websitesand pages, blogs have an advantage as they can have fresh content to keep people coming back. Using a feed service allows people to subscribe to the blog to get updates in either a feed reader or by a daily email when you do postings. This is a great way to get information out. My online commissions in the last year have increased more than 30 times from the previous year. In 2010 we had to move the site three times to handle the bandwidth or traffic from the site.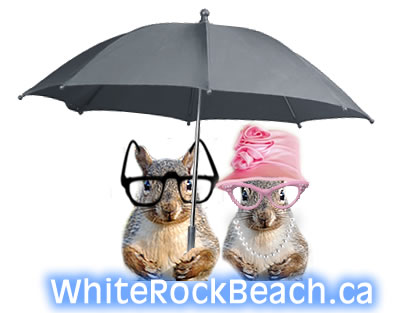 LotterySquirrel.com & WhiteRockBeach.ca has two main mascots: Lucky and Sugar-toes; two squirrels that even talk and produce regular podcasts. With the WinBIG.ca website and LotteryCharms.com, we get bi-directional traffic on many of our sites. We like to help promote charitable lotteries and have in the past photographed dream homes in Sarnia, London, Guelph, Toronto, and Oakville – all with our two mascots in the photos. This is all being done at our expense. Quite often people looking for a particular lottery land on our site first and find a link to the lottery they want. We usually rank better in the search engines than the people conducting the actual lottery. We have had our postings show up in Google™ in less than 12 seconds. Traffic on the internet is the electronic GOLD or OIL of the future and LotterySquirrel.com seems to have a never-ending supply. Traffic for 2010 was over 500,000 and we expect to have over one million visitors in 2011. Lucky and Sugar-toes are even looking at branching out into doing voice-overs, as well as product and service endorsements. We've even created a line of Lucky the Lottery Squirrel-Lottery Charm® fridge magnets. We have other Lottery Squirrel-Lottery Charm® products planned for the future.
Available at LotteryMagnet.com & LotteryCharms.com
Make sure you bookmark LotterySquirrel.com or add to your favorites. And subscribe to our feed if you want regular updates of new content.